"Murphy"

Murphy falls victim to reanimates.

Age:

Unknown

Height:

Unknown

Weight:

Unknown

Status:

Presumed Dead or Zombified.

Last known whereabouts:

Actor:
The CORPS solider known simply as "Murphy" was a member of Commander Rick Wolf's squad. He was deployed to downtown Kansas City, Missouri along with fellow squad member "Nelson", to the contain the reanimate outbreak there.
Murphy is seen in the ICWXP theme song fighting zombies until he is overtaken by them and presumably eaten.
Behind the Scenes
Edit
Murphy was portrayed by ICWXP Associate Producer and Director of Photography Brandon Bamesberger, who co-directed the ICWXP theme song while simultaneously staring in it.
The character's name tape never appears on camera, however series creator Rikk Wolf has confirmed the intended name was indeed Murphy.
This is a very obvious nod to Kevin Murphy of MST3K. A behind the scenes photo uploaded to the ICWXP Facebook supports this. [1]
According to Wolf, it was always intended for the name tape on the uniform to be visable, but due to framing, postioning and random circumstance, it was never seen.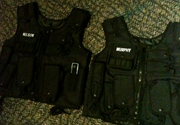 References
Edit